Tanglewood Horticulture Challenge Exceeds Goal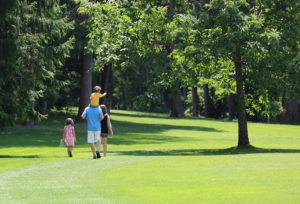 With a growing need to prioritize long-deferred capital improvements to the landscape at Tanglewood, and as part of a series of significant investments in its summer home, in early 2016 the BSO launched the Tanglewood Horticulture Challenge with a generous $1 million challenge gift from an anonymous donor, who pledged to match gifts to this initiative on a 1:1 basis.
Thanks to the very enthusiastic response from a total of 104 matching gifts, and a second contribution from the challenge donor, the BSO has closed out this generous matching gift challenge with contributions totaling $2.45 million, which can now be invested in Tanglewood's horticultural future.
The funds from Tanglewood Horticulture Challenge donors will support the BSO's immediate horticulture projects, such as the landscape design work around the new TMC/TLI facilities, as well as longer-term efforts to enhance the horticultural landmarks of the entire Tanglewood campus. As part of these initiatives, the BSO will complete several grounds projects this offseason including the development of a new landscape framework plan to guide future work.
Tanglewood Forever News and Updates
As the Linde Center rounds into its final form, the new Ozawa Hall Gate structures continue to come together, providing a new glimpse at Tanglewood's future.
Donate Today
You can help the BSO ensure that Tanglewood remains vibrant and unique among summer festivals by supporting Tanglewood Forever. Donate online now, or contact the BSO Development Office at 617-638-9267 or friendsoftanglewood@bso.org for more information.