Tanglewood Breaks Ground on its Largest Building Project in Decades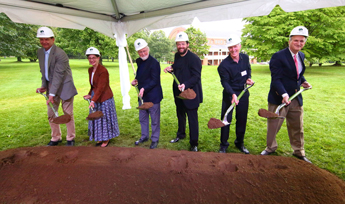 On August 18, 2017, the BSO broke ground on Tanglewood's largest building project in decades: a new four-building complex to support the performance and rehearsal activities of the Tanglewood Music Center (TMC) and to serve as the home of the new Tanglewood Learning Institute (TLI).
The groundbreaking ceremony on August 18 was attended by early supporters of the project and members of the BSO community including Andris Nelsons, Ray and Maria Stata Music Director, and John Williams, George and Roberta Berry Boston Pops Conductor Laureate. Mark Volpe, Eunice and Julian Cohen Managing Director; Anthony Fogg, William I. Bernell Artistic Administrator and Director of Tanglewood; Joyce Linde, BSO Trustee and Chair of the TMC/TLI Initiative Committee; and William Rawn, Founding Principal of William Rawn Associates, Architects, Inc., all spoke at the ceremony.
In her remarks, Linde shared the vision for this new building project, calling on everyone present to "Imagine, if you will. . . TMC Fellows, BSO players, guest artists, faculty and music-lovers from near and far, rubbing shoulders in the new studios and in the new café, all coming together to share experiences and explore new ideas." Linde also called this project "an innovative way to broaden the definition of what Tanglewood could be in the 21st century."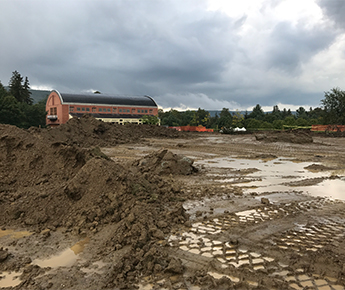 Mark Volpe echoed Linde's anticipation of an exciting new phase for Tanglewood, telling the audience, "Today, we break ground on a new facility that represents the BSO's investment in Tanglewood's future, a future that is more and more aligned with the communities that compose the Berkshires, and a future that will help redefine the role of a major symphony orchestra in the areas of learning and enrichment throughout the art form."
Along with breaking ground on the new building developments, several Tanglewood horticultural projects have also begun, supported by the successful Tanglewood Horticulture Challenge. Launched in 2016 with a $1 million gift from an anonymous donor, the Horticulture Challenge matched gifts to Tanglewood horticultural projects on a 1:1 basis. The BSO closed out the challenge with $2.45 million. Crews are already in the process of replacing the entire fifty-year-old irrigation system on the Shed lawn. Working in phases over the next two years, the old, undersized system will be pulled out to make way for new infrastructure and equipment designed to nourish and preserve the famed Tanglewood lawn for decades to come.
The ongoing projects also include the development of a new landscape framework plan for Tanglewood's sprawling 526-acre grounds. Created by landscape architecture firm Reed Hilderbrand, the plan will be used to define uniform strategies to guide future work and efforts to document, maintain, preserve, and enhance Tanglewood's natural beauty around the new building and across the entire campus.
Tanglewood Forever News and Updates
The donor-funded Tanglewood Forever campaign, which continues through August 31, 2019, has surpassed its $64 million goal, raising $70 million as of July 8, 2019. Fundraising efforts—also in support of the new year-round programming opportunities made possible by Tanglewood's first-ever four-season venue, the Linde Center—will continue past Tanglewood forever campaign completion.
Donate Today
You can help the BSO ensure that Tanglewood remains vibrant and unique among summer festivals by supporting Tanglewood Forever. Donate online now, or contact the BSO Development Office at 617-638-9267 or friendsoftanglewood@bso.org for more information.